Masks are optional. We understand that some people may not agree, feel safe, or feel ready to lift these restrictions. We support you and encourage you to continue with whatever level of safety precautions fits your needs. If you would like to attend via Zoom, please complete the Contact Us form to request access instructions.
OUR CHURCH HOME
Our church building is an impressive, practical brick structure designed by Marvin E. Knedler Associates. Church offices, chapel, and classrooms were built and occupied in 1956. The spacious sanctuary, including balcony, choir loft, and Wicks pipe organ, was completed in 1963. The sanctuary and balcony can seat 280 worshipers.
We have 3300 square feet of classroom area and a 3000-square-foot fellowship hall and adjacent kitchen facility. Our 725-square-foot chapel is used for meetings, study, and special events. The paved parking lot is located behind the church (away from the street). It has spaces for 90 vehicles.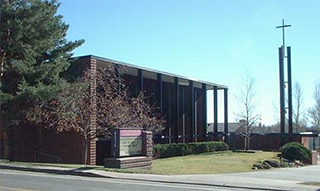 From the street.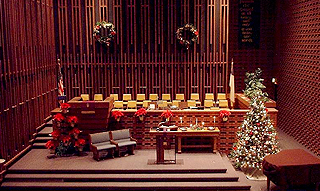 Our sanctuary at Christmas.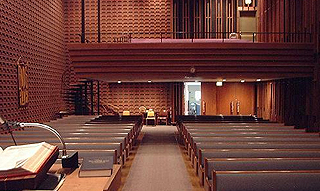 From the chancel looking down the aisle. Note that there are no columns beneath the balcony. It is supported from above.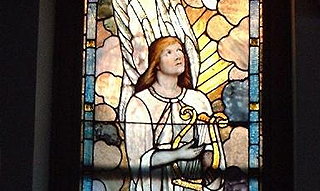 Stained Glass Window from the old Congregational Church on Federal Boulevard, now in the entry way at our present location.
Thank you for considering giving to the Wheat Ridge Congregational Church of the United Church of Christ. Your kindness to our community is much appreciated! Please click on the GIVE TO WRCC button to process your donation.