WHEAT RIDGE CONGREGATION: THE UNITED CHURCH OF CHRIST
Welcome to the web site of the Wheat Ridge Congregational Church of the United Church of Christ! We are a loving fellowship committed to following the Word of God through the teachings of Jesus Christ. We are a progressive, compassionate, thoughtful, open-and-affirming congregation. We believe that the core of the Christian gospel is the message of God's love. As Christians, we profess Jesus as the central revelation of God's love and understand Jesus as a distinctive prophet and savior who came into the world, ushering in a novel, loving, creative, whole-making dynamic that is as relevant and transformative today as it was then.
As a church we hope to provide a place where programs, people, and compassionate living bring relevance, clarity, and direction in the face of life's most difficult challenges. As a faith community we offer opportunities for spiritual deepening and healing while also living out Christ's call to respond to the needs of our world.
At WRCC UCC we attempt to offer a worship experience with depth and quality while also being accessible and welcoming for those who have little or no personal experience with church traditions. Some of our members would say that at our church they are "recovering" from earlier experiences with churches that they found to be strict, moralistic, or implausible. At WRCC UCC we care about people, God's creation, spiritual development, intellectual curiosity, meaningful living, social justice, fellowship, and simply being kind to one another. We don't try to be perfect but we do seek to be authentic. We aren't overly idealistic but we do believe that with God's grace, God's inspiration, and our loving action, we can and do make a difference in the world.
If you decide to visit us we want you to know that no matter who you are or where you are on life's journey, you are welcome here.
OUR CHURCH HOME
Our church building is an impressive, practical brick structure designed by Marvin E. Knedler Associates. Church offices, chapel, and classrooms were built and occupied in 1956. The spacious sanctuary, including balcony, choir loft, and Wicks pipe organ, was completed in 1963. The sanctuary and balcony can seat 280 worshipers.
We have 3300 square feet of classroom area and a 3000-square-foot fellowship hall and adjacent kitchen facility. Our 725-square-foot chapel is used for meetings, study, and special events. The paved parking lot is located behind the church (away from the street). It has spaces for 90 vehicles.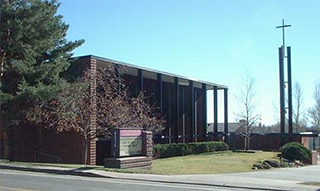 From the street.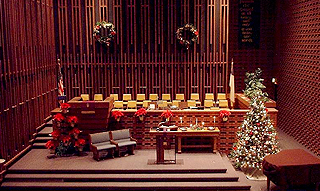 Our sanctuary at Christmas.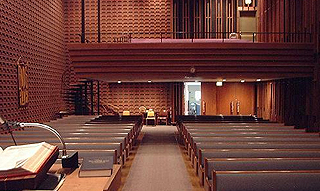 From the chancel looking down the aisle. Note that there are no columns beneath the balcony. It is supported from above.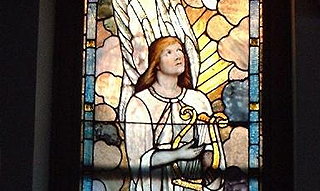 Stained Glass Window from the old Congregational Church on Federal Boulevard, now in the entry way at our present location.